An Apple TV (
tv
) now graces my bedroom TV entertainment center.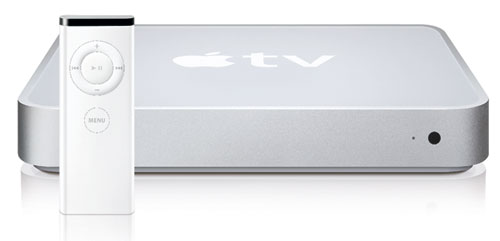 What is it?
Wikipedia
calls it a "
digital media receiver
." I think of it as an iTunes client. You hook it to an HDTV — either with an HDMI cable or with a component video or YPbPr cable supplemented with a left and right stereo audio cable. (You have to supply whatever cables you use. None come in the box with the Apple TV.) Apple TV pulls video and audio content out of iTunes over the network and plays it into your TV.
You can read a
c|net
review of Apple TV
here
.
Before hooking up the Apple TV, you fire up iTunes on one of your computers (which can be a Mac or a PC).
After hooking up the Apple TV, you then interact, via the included remote, with the user interface that appears on your TV screen. You are asked to idenfity your wireless home computer network (or optionally a wired Ethernet network). You enter the necessary network password on a popup keyboard on the TV screen.
The Apple TV puts a randomly chosen 5-digit code on the TV screen, which you duly type into iTunes on your chosen computer. Your iTunes library starts syncing to the Apple TV.
Sitting at your computer, you can interrupt that process to give yourself greater control over what syncs and what doesn't. You can sync music, movies, TV shows, podcasts ... and also photos from iPhoto. In each category you can either suppress syncing entirely or select from various subsets of eligible items. For example, under Movies you can choose to sync, say, just the five most recently added unwatched movies.
Movies and other media files that are synced to Apple TV are physically copied, via the network, to the Apple TV's internal hard drive, which in my $299 unit holds 40 GB. There is also a 160 GB Apple TV for $399. (Click this link for the
tour of Apple TV
at the Apple web site.)
Syncing to Apple TV is thus like what you do with an iPod. But with an iPod, you have to finish the syncing before you can access any media files. With Apple TV you don't have to wait, because Apple TV streams as well as syncs.
That means you can instantly navigate the new Apple TV to, say, the
Lord of War
movie file you just downloaded from the iTunes store, and start playing it right away ... regardless of whether or not the movie has synced (or will
ever
be synced) to the Apple TV.
I found movie streaming (which is more challenging to a network than, say, music streaming) operated smoothly and responsively on my existing wireless network. Doing things like pausing and resuming, stepping forward and backward to the next chapter or by a set amount in a movie without chapter stops, and fast forwarding and rewinding, I found myself grinning. No, it's not
quite
as responsive as a DVD player when you do these things while streaming a movie to Apple TV, but its quite good.
Surprisingly
good.
This is on my 802.11g
wireless network. Apple TV also supports the much faster 802.11n standard, if you have one of Apple's latest AirPort Extreme base stations. I don't.
Most wireless networks use a "base station" or "WiFi access point," which also serves as an "router" of IP (Internet Protocol) addresses, so any computer on the home network can get on the Internet. "Base station" is what Apple calls it. In the world of Windows PCs, it's an "access point" or "router." I'll call it by Apple's name.
The base station is the main thing that determines whether your home network uses the slower 802.11g or the faster 802.11n technology (or both). But if a device on the network
doesn't
support 802.11n, speeds are limited to 802.11g
for any transmission involving that device
. The Apple TV
does
support 802.11n, so if you have the new type of AirPort Extreme 802.11n-capable base station
and
a computer that likewise supports 802.11n, you can stream or sync media files
from that computer
to Apple TV at the new, higher transmission rates.
Many of Apple's latest Mac models, including my MacBook Pro and other MacBooks and iMacs with Intel Core 2 Duo processors, need to have Apple's
AirPort Extreme 802.11n Enabler software
applied before they can use 802.11n. The enabler comes with the latest AirPort Extreme base station, or you can download it for $1.99.
In my experience, you don't need 802.11n. 802.11g is fine for both syncing and streaming.
At some point, you may want to sync/stream truly high-definition videos, none of which seem to be available today at the iTunes Store or in any video format that the iTunes software can accept. When HD videos become available, 802.11n speeds may become necessary. Time will tell.
The Apple TV user interface
that appears on your TV screen is elegant and intuitive to use. You navigate it with the Apple Remote which comes with the unit.
The tiny remote looks a bit like a wrapped stick of chewing gum on steroids. It's the same remote that comes with a MacBook Pro or various other Mac models today. It has just six buttons, all of which do double duty, depending on the context. For example, the play/pause button in the middle of the circle doubles as an "OK" button, while "Menu" is also "Back" (to the previous menu, that is).
Apple TV is very easy to learn to use. Apple has spent a lot of time refining the interface so that it does what you want it to do without a lot of false moves and puzzlements. Of course, different people have different intuitions about these things, but I personally found the Apple TV interface most gratifying. In fact, I have never even looked at the user guide which comes with the unit.
True, if you have never used iTunes or an iPod and never played a media file online, you may face something of a learning curve ... but not an insurmountable one.
Picture quality on Apple TV
is, in my humble opinion, more than acceptable. The movies I have tried thus far are copies of DVDs that I made on my MacBook Pro using (mainly)
HandBrake
. See my earlier posts in the category
Ripping DVDs
for more on how to turn your DVDs into video files which iTunes can play.
These files are not fully up to standard DVD quality, admittedly. Nor are they high-def. You do get a few "digital artifacts" (mostly "macroblocking") in some scenes, but most scenes look just fine. Resolution is good enough that you don't feel you are looking at an overly "soft" picture. A ripped file for a full length movie will typically be about 1 GB in size — a fraction of a regular DVD. The time it takes to rip the DVD depends on how fast your computer is. My MacBook Pro can do a movie in well under an hour.
So it's eminently possible to computerize your entire DVD library of, say, 200 titles into that many gigabytes of hard drive space. If your computer doesn't have that much space, you can get an external drive for (very roughly) $100-$150 per 250 GB. If you get one of Apple's new base stations, you can hook a USB-interface external drive to it and share it among all the computers on your network.
Because Apple TV streams so well, it doesn't really matter that you can't sync all those movies on the network hard drive to it, be aware.
Of course, if you don't want
to rip DVDs, you can purchase movies and TV shows in downloadable form at the iTunes Store. The selection is pretty good and getting better. The day is coming (but isn't quite here) when you will be able to buy any movie at the iTunes Store that comes out on DVD.
Unfortunately, you can't necessarily get movie downloads at any other site that can be imported into, and will work with, iTunes. It depends on the format and codec used to encode the video.
iTunes prefers videos encoded in
These are the formats that will work on Apple TV without conversion. They will also work on a video iPod. (However, to work on an iPod they have to have certain characteristics which may not conform to Apple TV's needs. The main difference is that an iPod has lower resolution than an HDTV fed by Apple TV.)
There are other video formats which iTunes can also import and play, but which will not play on Apple TV (or iPod) unless they are converted. iTunes has "Convert Selection for Apple TV" and "Convert Selection for iPod" choices it its Advanced menu for this purpose. I have not tried these.
Generally speaking, any video format which is supported by Apple's
QuickTime
Player — as opposed to a QuickTime
plugin
— can be converted to an Apple TV-ready format in iTunes in this way. Among these formats are QuickTime' own movie (.mov) format,
AVI
, and several others. However, if a video is copy-protected, it cannot be converted.
Certain popular video formats are
not
supported. These include the well-known Windows Media Video 9 codec, now named
VC-1
. Another unsupported codec, as far as I can tell, is
DivX
. (I am taking this information about what video formats are not supported from various Web sources. I have not confirmed it.)
The latest Apple TV software, which can be downloaded and installed on Apple TV via the on-screen user interface,
does
support YouTube videos (even though they're not in iTunes). Cool!
As for music files, if they're in iTunes you can sync/stream them to Apple TV. They turn your TV into a giant iPod, they're easy to locate via such standard categories as title, album, playlist, etc., and they sound great. Unlike most other iTunes-aware digital music receivers, Apple TV lets you play all those "protected AAC" music tracks you've downloaded from the iTunes store. Major kudos for that!