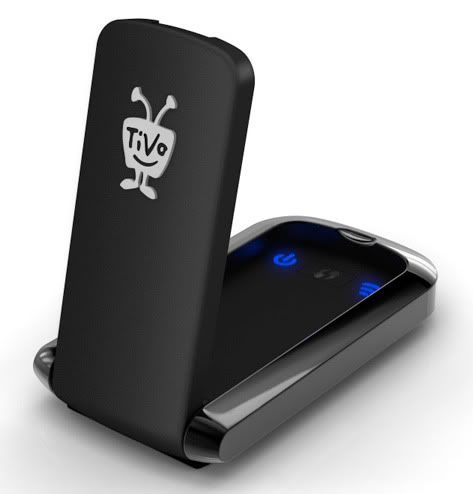 I wrote in
TiVo Wireless-N Adapter Arrives!
about a newer, faster way to network TiVo boxes wirelessly. It's the TiVo Wireless-N Network Adapter,
presently $70.35 at Amazon.com
This new adapter can replace the wireless-G adapter that you may now use on your TiVo, but it's a little different. It's bigger, for one thing: about the size of a cellphone. It plugs into the TiVo's Ethernet port, not a USB port. It also plugs into an external source of electrical power; the G adapter doesn't.
The benefit? The N adapter can operate at 5.0 GHz, over twice the theoretical data delivery rate of the G adapter's 2.4 GHz.
I bought two N adapters and tried them out on my bedroom TiVo Series3 and my living room TiVo HD. My main hope was to be able to stream HD movies from my Mac to either TiVo fast enough to avoid pauses for rebuffering. The G adapter couldn't even begin do that. With the G adapter, streaming HD movies became a chore of continually having playback interrupted by rebuffering pauses. Would the N adapter be fast enough?
Sadly, no. I'll discuss that result later, along with another significant problem I ran into. But, first ...
Setup and installation
I found my first adapter's setup and installation process to be difficult, though after I cleared those hurdles the setup of the second adapter was easy. I'll go into some detail about the hurdles I encountered with the first adapter in just a bit.
First I should note that the N adapter's included Installation Instructions booklet is generally well-organized and clearly written. Still, I ran into problems with the first adapter because at least one of the things it says is plain wrong, and there are also some things it doesn't tell you that maybe it should.
The booklet gives three options for doing the setup. (There is also mention of what you need to do if your TiVo currently uses a phone line instead of a computer network to connect to the TiVo service.)
(1) The easiest setup method:
This method applicable if you have a wireless-N router with a WPS button; WPS stands for "Wi-Fi Protected Setup." After you attend to basic hardware necessities like setting a switch on the adapter to the "Client" position, hooking up the adapter to its set of three interconnected cords and cables that end up forming a Y, plugging one of the Y's three cable ends into a standard power outlet, and hooking another of the three into the Ethernet port on your TiVo (the third end plugs into the adapter itself), you just press and hold down the WPS button on your N router until it starts blinking. Once the N router's WPS button starts blinking, you have one minute to press and hold down the WPS button on the adapter itself. When that button starts blinking, WPS automatically syncs your router's security (including its passphrase, etc.) with your adapter.
When that WPS sync process is complete, a signal-strength LED on the adapter will turn either solid green or solid blue. If it's solid green, the adapter's operating in G mode, at 2.4 GHz; blue, at 5.0 GHz.
My N router (an Apple AirPort Extreme base station) doesn't have a WPS button, so I couldn't use this easy-as-pie setup method.
(2) The next-easiest setup method:
This is what you do if you have a wireless-G (or wireless-B) router, but not a wireless-N router. To get your N adapter working using this method, you need a
pair
of TiVo Wireless-N Network adapters. You hook one of them to one of your G/B router's Ethernet ports, while the other N adapter is hooked to your TiVo's Ethernet port. The router-connected adapter's switch is set to "Bridge" instead of "Client"; the other's switch is set to "Client." You press and hold down the WPS button on the TiVo-connected adapter — there isn't a WPS button on the G/B router itself, remember — until the button starts blinking, then within one minute press and hold down the WPS button on the router-connected adapter until
it
starts blinking. At that point, WPS automatically syncs the two adapters. The signal-strength indicators on both adapters turn solid blue.
This method didn't apply to me. I have an N router, albeit one with no WPS button.
(3) The manual setup method ...
... is the one I had to use, and it can be the hardest. Whether it's hard or easy depends on how you presently have your wireless router and your computer configured for networking.
For me, setting up the first adapter of the two that I bought was hard. I had to overcome several hurdles. In a moment, I'll detail them. But first, I need to emphasize that overcoming those hurdles for the first adapter made setting up the second adapter a snap. I'm going to put the process I went through to set up the
first
adapter in blue below, so that if you don't want to read it all, you can easily skip ahead. And you probably
don't
need to read it if:
You already have your computer's network preferences set to configure the IP address of its Ethernet connection "Using DHCP"
You have your computer's Wi-Fi/AirPort wireless adapter turned on
You don't use anything like pyTivo, pyTivoX, or StreamBaby to move content from your computer to your TiVo
That said, here's what I went through to get my first wireless-N adapter up and running:
After setting the switch on the first adapter that I received to "Client" and assembling its cords and cables, I was told by the Installation Instructions to hook the wireless-N adapter to an Ethernet port on my computer — not on my router, not on the TiVo that it would eventually connect to — in order that I could run the TiVo Network Adapter's Setup Wizard in my computer's web browser.

Well, I was already using my iMac's only Ethernet port to connect it to my router/base station. So I had to disconnect that existing Ethernet cable from the back of my iMac. Then I hooked the Ethernet connector of the adapter into the vacated Ethernet port.

Also, I had the AirPort wireless capability turned off on my Mac, which actually seemed fine because the Installation Instructions booklet says, wrongly, "You may need to disable your computer's wireless connection before proceeding." Yes, that turned out to be exactly wrong!

Anyway, for reasons I won't go into here, I had Network Preferences on my Mac set up (under Built-in Internet) to configure "Using DHCP with manual address." I had set the Mac's manual IP address to 10.0.1.201. I would soon have to change that ...

The Installation Instructions told me to go to 192.168.10.1 in my web browser — which is an IP address hard-coded into the firmware on the N adapter — in order to run Setup Wizard. However, when I did so, my browser reported not being able to find the web page associated with 192.168.10.1!

After I diddled around with different ways of entering the 192.168.10.1 IP address into the browser's URL field and having no success whatsoever, I finally had a look at my iMac's Network Preferences. Lacking anything better to try, I changed my Built-in Ethernet IP-address configuration mode to just plain "Using DHCP," without "with manual address."

Within seconds of my hitting the Apply button, my Mac's IP address changed from 10.0.1.201 to 10.0.1.12.

Once that happened, my browser was able right away to find the Setup Wizard at 192.168.10.1. Moral: make sure you're not using a way of configuring your computer's Ethernet IP address other than "Using DHCP," or you may not be able to access 192.168.10.1 and run the Wireless-N Adapter Setup Wizard.

That hurdle cleared, I started following the step-by-step instructions fed to me in my browser window by the Setup Wizard. Pretty quick, the Wizard asked me to select my wireless network from a list of those whose signals could be detected in the vicinity. Sadly, my own network was not on the list!

Uh oh.

I scratched my head vigorously for a minute and finally came up with: Well, sure. How could my network show up if ...


my computer was not connected via Ethernet to my router (since I had unplugged the Mac-to-router Ethernet cable in order to plug the Ethernet cable of the adapter into my Mac) and
my Mac had its AirPort wireless connectivity turned off?

I turned on my Mac's AirPort capability — contrary to the Installation Instruction I mentioned above — and my network finally appeared in the (duly refreshed via a button click) list in Setup Wizard. I then told the Wizard to connect to that network ... and after many, many long seconds of watching a progress bar inch its gradual way rightward ... was told that a connection could not be established!

Oh, wonderful.

What could be wrong now?

Failing to think of a single blessed thing that I could do differently, I fell back on that age-old solution, "Why not just try it again and see if it works?"

Guess what? After the progress bar inched and inched and inched rightward, I finally saw:
It worked the second time around! Go figure!

Next step: move the now-successfully-configured N adapter to my Series3 TiVo and hook it up there.

To do that, at first I had to struggle with the adapter's Y-configuration of cords and cables once again, plus I had to add an extra power strip to my entertainment center, so I could plug in the adapter. Once that manual chore was over, I followed the Installation Instructions and tried to connect my TiVo to the TiVo service. To do so, I went to Messages & Settings > Settings > Phone & Network > Connect to TiVo service now" on the TiVo.

After the usual long wait for "Preparing ... ", I was told that the attempt to connect had failed due to not finding a DHCP server.

Sheesh!

The TiVo's network settings screen at that point showed what I considered to be an unusual IP address it was 192.168.10.nn, as I recall. (Also, the type of network connection was shown — quite correctly, since the adapter goes into the TiVo's Ethernet port — as "Ethernet.")

I had to change my network settings on the TiVo from "Get automatically from a DHCP server (typical)" — which is what the Troubleshooting section in the adapter instructions recommends — to "Let the DVR assign itself an IP address." Once I did that, my TiVo's IP address turned to the more usual 10.0.1.nn, and I was able to connect to the TiVo service. Oddly enough, during the process of coping with some further problems which I am about to describe, I tried reverting the TiVo's network settings to "Get automatically from a DHCP server (typical)," and I was pleased to see that the IP address of the TiVo remained 10.0.1.nn!

Why did the IP address of the TiVo show up at first as 192.168.10.nn? I have no idea.

Anyway, be aware at this point that I use pyTivoX on my Mac to share video files with my TiVo. pyTivoX incorporates StreamBaby, which is a way of streaming the same videos to the TiVo without having to move copies of them onto the TiVo's hard drive. So pyTivoX gives two ways for a video file to be shared: via Mac folders that show up in my TiVo Now Playing list, and via the same Mac folders that show up within a pyTivoX menu item that appears towards the bottom of the TiVo's Music, Photos, & Showcases menu.

Confusingly, my pyTivoX video share folders now each showed up twice in the TiVo's NPL, but only one item of each seemingly identical pair worked properly. Later on, I realized that this problem could be cured by deleting all the video "share" folders from the pyTivoX configuration window, respecifying them all over again, and hitting the Apply button. (But hitting the Apply button multiple times during the reconfiguration process causes redundant entries to appear in the TiVo Now Playing list.)

Meanwhile, the "pyTivoX - iMac.local" menu item that should have appeared towards the bottom of the TiVo's Music, Photos, & Showcases menu was missing. It was the second of these two problems which concerned me most. The TiVo's pyTivoX menu item unlocks the StreamBaby interface of pyTivoX.

Streaming is slightly faster than copying. I won't go into the reasons for that here, but I wanted the fastest possible connection, so I set about figuring out why the pyTivoX menu item was missing from the TiVo.

To do that, I figured I'd look at the streambaby.ini initialization file which pyTiVoX uses to configure StreamBaby. It's in the ~//Library/Application Support/pyTivoX folder. The file contained ip=10.0.1.201, the former IP address of the iMac running pyTivoX.

10.0.1.201 was the right IP address before I changed my Network Preferences for Built-in Ethernet to configure the Mac's Built-in Ethernet port "Using DHCP," i.e., without using a "manual address." After that change, the Mac's IP address became 10.0.1.12. Yet the streambaby.ini file being used by pyTivoX still had ip=10.0.1.201.

I fixed that problem by quitting pyTivoX, trashing my ~/Library/Application Support/pyTivoX folder, and then restarting pyTivoX on my iMac so that the streambaby.ini file and other key files in the folder would be recreated ... after which (irritatingly) I had to respecify my three video share folders in pyTivoX all over again, and hit the Apply button just once at the end of the process.

When I went back to my TiVo after that, I found to my satisfaction that the pyTivoX menu item had duly reappeared near the bottom of the TiVo's Music, Photos, & Showcases menu. I was able to use it to stream videos from my Mac, and it all worked just fine.

The moral here is that if you are using pyTivoX and you change your Mac's IP address in order to get a TiVo Wireless-N Network Adapter up and running — or for any other reason, at any time down the road — you need to re-initialize pyTivoX in the way I've just described.
So, at this point, I finally had a working wireless-N adapter on one of my TiVos. It was time to test it out.
Initial testing
When I made my first tests of Mac-based movie playback on the TiVo Series 3 in my bedroom, using the first of my two new N adapters — the second had yet to arrive — I was disappointed to find that they played with a certain amount of pixellation and, now and then, some brief breaking up of the image. The flaws showed up only occasionally, but I knew they shouldn't be there at all, since the video files I was using contain no such flaws.
I considered the possibility that the CPU of the TiVo, known not to be very powerful, simply couldn't keep up with rendering the image properly, given the increased speed at which the video file was now being copied to the TiVo. Maybe the TiVo couldn't do the work of buffering all that incoming data
and
properly rendering the image at the same time.
If that was the case, I realized, there was probably going to be no cure for the problem.
Of course, I knew that soon I would also be trying out the pyTivoX StreamBaby interface on the TiVo— I was using the pyTivoX non-streaming interface at this point — and perhaps
it
would function better.
First, though, I thought I'd just try restarting the TiVo and hoping that would cure the problem. And it did! Moral of story: after installing a new N adapter, it is a good idea to restart your TiVo, even though it's not officially necessary to do so.
After I got rid of the pixellation and other picture glitches in that way, I discovered
only then
that the pyTivoX menu item that should have appeared towards the bottom of the TiVo's Music, Photos, & Showcases menu was missing. I've already told in the section in
blue
above about what I had to do to fix that problem.
Once it was fixed, I tried streaming HD video via the StreamBaby interface. It played flawlessly, and a 5-min. snippet of a recent TCM HD broadcast of the classic movie "High Society," having an average bitrate of 12,561 kbps, gave me no unwanted pauses when I streamed it to my bedroom Series3 TiVo! The same snippet, when played via the pyTivoX Now Playing list interface on the TiVo, did give me buffering underruns and hard pauses. That seemed to confirm my assumption that streaming works faster than playing the same file as it is being copied over the network to the TiVo's hard drive.
That's key, so I'll repeat it: Streaming, using pyTiVoX's
StreamBaby
interface, works faster than playing the same video file as it is being copied over the network to the TiVo's hard drive, using pyTivoX's
main
interface. My first test of wireless-N speeds seemed to show that streaming
can
keep up with a fairly high average bitrate of 12,561 kbps.
Speed issues
That result, alas, did not hold up for long. I'll tell why in a moment. First, some technical background:
On the TiVo, in the menu hierarchy within the StreamBaby interface, you can see what the average bitrate of a video file is. When you see a number like 12,561 kbps, you know that it's the
average
bitrate of the file: the number of bits in the file divided by the number of seconds in the running time of the video. You can be sure that the moment-to-moment bitrate will fluctuate around this number, sometimes higher and sometimes lower. How much higher it gets, and how long it stays high, will likely determine whether there occurs a pause-inducing buffer underrun at any point during the streaming of the file.
If there is a buffer underrun, playback pauses. You have to hit Play again to get it to resume.
At any time during playback, you can hit the Play button on the TiVo remote to see how far ahead of the actual playback point the green bar is moving. The green bar indicates how much of the unplayed part of the video has already been buffered. The further ahead of the actual playback point the green bar is, the less the chance of a buffer underrun any time soon.
In my experience, 12,561 kbps is a typical average bitrate for HD material. If that average bitrate won't stream without pausing, I knew my experiment with wireless-N would be (because I'm so interested in streaming HD video to my TiVos) something of a failure. So I was quite happy that my 5-min. test snippet didn't pause on my Series3 TiVo.
However:
It did pause on my living room TiVo HD, once I'd hooked the second N adapter to it at 5.0 GHz
The full-length movie that it was extracted from had a higher average bitrate, well over 13,000 kbps. Its playback stream kept pausing, over and over, on my TiVo HD and (to a lesser extent) on my Series3
Not only that, but I could tell by looking at the green buffering bar on the TV screen when I hit Play on the TiVo remote that my 5-min. snippet was in imminent danger of incurring a buffer underrun just as it wrapped up on my Series 3, so I knew even at that point that my initial success story might not hold up.
It didn't.
Believe me, I tried to pull every rabbit I could out of every hat I could think of, but I could not find a way to achieve that last little increment of speed that would avert repeated buffering pauses on HD material. I even ran an Ethernet cable from the router in my upstairs office to the Series 3 in my upstairs bedroom and to the TiVo HD in my downstairs living room, since I would have bet the farm that shifting to Ethernet speed would cure the problem.
It didn't.
And, in further testing, the buffering pauses turned out to be just as rife with Ethernet as with wireless-N!
It finally hit me that the only explanation — in my various tests I had eliminated all other possibilities — was that the network speed between my Mac and my TiVos was not the bottleneck.
In fact, the bottleneck had to be the speed of the TiVo itself, and in particular, its slow CPU.
The upshot here is that neither the original Series 3 TiVo nor the TiVo HD can keep up with HD video streamed via a wireless-N adapter. In fact, a TiVo HD is worse at it than an original Series 3.
However, I have learned that the new TiVo Premiere, which is considered a Series 4 TiVo,
can
keep up. In fact, as I write this, I have a Premiere on order that I will test out as soon as I receive it. I'll report on that in a future post.
MRV is faster
Meanwhile, I have this to add about using wireless-N adapters for TiVo multi-room viewing (MRV) from a TiVo HD to a Series 3: it
is
fast enough to keep up with an HD program that is being watched as it is being MRV-transferred.
In order to test that, I had first to receive my second wireless-N adapter, set it up, and hook it to the TiVo HD in my living room. That went without a hitch — though there was still one more problem to be dealt with, which I'll discuss momentarily. Once I had dealt with it, I tried MRV'ing HD programs from the living room TiVo HD to the bedroom Series 3. I found to my great satisfaction that there were basically no playback pauses!
Specifically, I tried MRV'ing "High Society," the movie that I couldn't stream from my Mac to the bedroom Series 3 without repeated pauses, from the living room TiVo HD to the bedroom Series 3, and I was pleased to note that the green progress bar stayed about 30-40% ahead of the playback point!
For instance, as playback reached the 15-min. mark the progress bar was at least about 20 min. ahead of playback, a 33% outpacing of playback. It could even (since the ticks on the bar are at crude 15 min. intervals apart) have been 40% ahead of playback. (I started playback immediately after initiating the MRV transfer, and I did not pause playback at all and let buffering gain an unfair advantage over playback.)
This showed me that wireless-N is a tremendous success, compared with wireless-G, at speeding up MRV to the point where playback-amid-transferring can keep up with the transfer itself!
Obtaining 5.0 GHz operation
However, as I mentioned earlier, I had to confront yet another problem before I could get that success story to happen. I found that I had to reconfigure my N router, an Apple AirPort Extreme base station, to allow my two new N adapters to operate at their top 5.0 GHz speed.
My N router has four "radio modes," two of which are important to this discussion:
802.11n (802.11b/g compatible)
802.11n only (5 GHz)
I originally had my router using radio mode #1, "802.11n (802.11b/g compatible)," because I have several devices on my network that are not 802.11n-compatible, one of these being my iPhone, when it is in Wi-Fi mode. Using b/g compatibility radio mode on my N router allowed me to mix and match on my network G devices operating at 2.4 GHz and N devices at 5.0 GHz.
I found, however, that when I had my N router in b/g compatibility mode, my TiVo Wireless-N Network Adapters did
not
operate at 5.0 GHz. They operated at 2.4 GHz instead!
I could tell this simply by looking at the adapters. Each adapter has two LED status indicators, one for power and one for an active wireless network connection. When both indicators are a solid green, the adapter is connected to the network and operating at 2.4 GHz. When both are a solid blue, the adapter is connected to the network and operating at 5.0 GHz.
With my router operating in b/g compatibility mode, both adapters had solid green indicators. They were operating at 2.4 GHz, meaning that they could transfer data no faster than wireless-G adapters!
To get my adapters' indicators to turn solid blue, thereby switching to 5.0 GHz operation, I had to change the radio mode of my N router to mode #2, "802.11n only (5 GHz)." When I did that, the adapters' indicators automatically turned solid blue within about one minute of my making the change. I did not have to go through any rigmarole such as powering the adapters down and up again to get them to switch to the new rate of operation.
Update: Thanks to a comment by Anonymous (Paul) below, I now realize that my need to fiddle with the radio mode of my AirPort Extreme base station (AEBS) was due to the fact that it is not a current model AEBS. According to the Wikipedia article on Apple's AirPort product line, "On March 3, 2009, Apple unveiled a new AirPort Extreme with simultaneous dual-band 802.11 Draft-N radios. This allows full 802.11 Draft-N 2x2 communication in both 802.11 Draft-N bands at the same time."

I interpret this as saying that newer AEBS's than mine output 2.4 GHz and 5.0 GHz signals, both at the same time, as they provide 802.11n compatibility. If I had one of the newer AEBS's — mine is from circa 2005 — I believe I could have obtained blue status lights on my N adapter right away, after initial setup.

I'm not familiar with the wider, non-Apple world of routers, but I have to think that some or all wireless-N routers that are available today do the same trick: generate both 2.4 GHz and 5.0 GHz signals at the same time as they provide N-compatibility. If you have one of those dual-band N routers, fine. If not, you may have to get creative, as I did.
Switching my AirPort Extreme base station to 5.0 GHz operation was well and good, but it left me with another problem. With my AEBS in "802.11n only (5 GHz)" radio mode, none of my 802.11g devices could get on the network.
Fortunately, I had at hand a ready solution to the problem. I have a second router, an older-model Apple AirPort base station, that operates in 802.11g mode. It can also use 802.11b mode or a b/g compatibility mode. It does not support 802.11n operation.
I'll call these two routers my "N router" and my "G router."
I won't bore you with the details, but it was possible to back-to-back the G router with the N router, with the former acting, technically speaking, as a "bridge" to the latter. The G router is in its 802.11g radio mode, while the N router is in its 802.11n-only mode. The N router connects to the Internet via a cable modem and "shares a public IP address" with the G router, and via the G router with all the G devices on my network.
In short, by back-to-backing two routers, I created what Apple calls a "dual band, 5.0 GHz and 2.4 GHz network," with Internet access on both bands.
Given this configuration, my two TiVo Wireless-N adapters now connect with the N router (ignoring the G router entirely) and operate at 5.0 GHz. Their indicators are a solid blue.
I have no idea, though, why my TiVo wireless-N adapters operate at 2.4 GHz when my N router is in b/g compatibility mode. My intuition was that they would instead discover that my router is N-capable and would pick, as a default, 5.0 GHz operation instead. But my intuition was wrong. At least under the conditions of my tests, my adapters seemed to default to 2.4 GHz operation as long the router's radio mode supports it.
For those who need 802.11g compatibility and don't have the wherewithal to back-to-back two routers in a dual-band configuration, I regret I can offer little further advice. It is not inconceivable that the problem is idiosyncratic to my Apple AirPort Extreme base station, and that other N routers would not present the same problem.
However, I think anyone who wants to run an N router in b/g-compatibility radio mode needs to be aware that it may be hard or impossible to get TiVo Wireless-N Network Adapters to operate at 5.0 GHz in that situation ... unless, that is, he or she is willing to spring for an
extra
adapter. With one adapter in "client" mode at each TiVo and one in "bridge" mode at the router, the radio mode of the router itself drops out of the picture.
With one TiVo Wireless-N Network Adapter acting as a bridge to one or more others, all the adapters will operate at 5.0 GHz, while the router can be in b/g-compatibility radio mode and can host N-capable and G-capable network devices independently of the TiVo adapters.
At
this page at TiVo.com
it says, under "What is the TiVo Wireless N Adapter Double Pack? Why would someone need a Double Pack?":
TiVo Premiere users who want to move their entertainment content across their home network at n speeds, can do so even if they only have a slower B- or G-speed router. How? By plugging one TiVo Wireless N Adapter into their Premiere and another into their legacy B- or G-speed router, they can create an N-speed bridge. This N-speed bridge enables users to download HD entertainment and move it through their home network at much faster speeds and with great efficiency.
I haven't tried a configuration using an N-speed bridge, but I have no reason to believe this capability of TiVo Wireless-N Adapters wouldn't work as advertised.